APARTMENT MARBELLA FIRST LINE BEACH
APARTMENT MARBELLA FIRST LINE BEACH
»

EXCLUSIVE GROUND FLOOR APARTMENT FIRST LINE BEACH
Apartment Marbella with exclusive location
Apartment Marbella - This is an exceptional opportunity to acquire a quiet situated apartment Marbella in a residential complex with direct access to one of the finest sandy beaches and the beach promenade of Marbella and all amenities. Both, the centre of Marbella and Puerto Banús, are within walking distance from a beautiful beach walk.
You will find this lovely and elegant modern ground floor apartment Marbella with mirrored windows less than 20 metres away from one of the best beaches of Marbella´s Golden Mile with its natural extension of the beach promenade towards Puerto Banús.
Located in the emblematic and sought after residential complex Port Oasis this apartment comprises of two bedrooms with built in wardrobes, two bathrooms, one of them en-suite, a large living & dining room with open plan kitchen opening onto the terrace which gives direct access to the beach and the Mediterranean Sea.
All bedrooms have access to a terrace and the windows are mirrored windows.
The complex has communal gardens, a large swimming pool area with a kids pool, daytime concierge service and is looked after through security guards by night.
A unique property, less than 20 metres away of one of the best beaches
Indoor Features: Fitted wardrobes; Air condition hot/cold; Disabled access
Building Features: Lift; Disabled access; Underground parking
Community Features: 24 hrs security service; Community pool; Kids pool area; Disabled access
For Sale: Apartment Marbella (Current)
Base Property Details
Building Information
Floor area (Inside): 68,93 m ²
Floor Area (Outside): 13,25 m ²
Floor Area (Total): 82,18 m ²
Taxes & Fees
Annual property tax (IBI): 981,00 €
Annual garbage fee (Basura): 185,05 €
Monthly community fee: 115,63 €
Your online business directory for Andalusia
Find your craftman, car mechanic, carpenter, golf course, hairdresser, Event, webcam, a Restaurant, Real Estate as well as Information and much more about the Costa del Sol, region Málaga specially the cities Marbella, Mijas Costa and Fuengirola.
Mission to the Philippines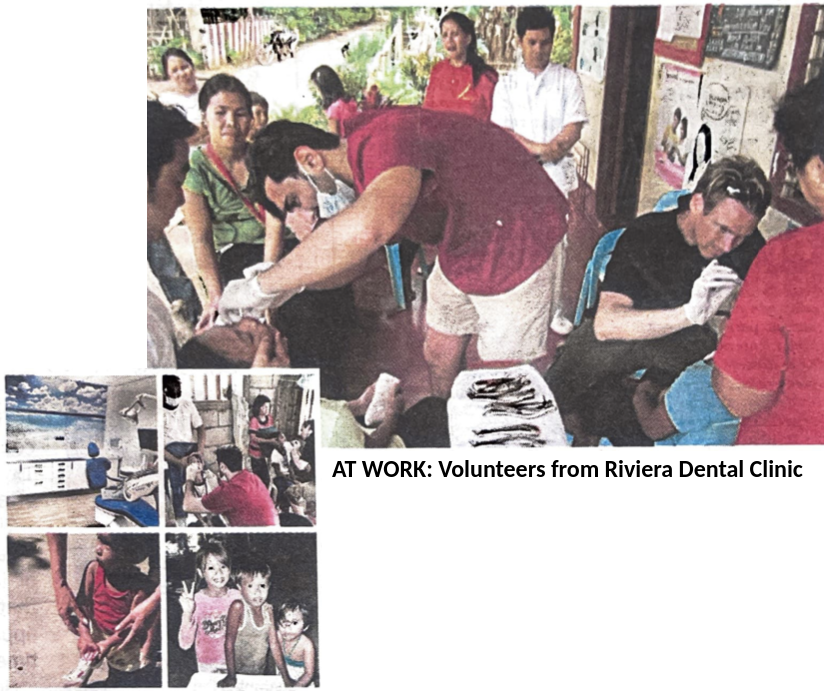 The idea of going on a dental volunteer trip has always been there and has always been one of the aspects of our profession that we at Riviera Dental Clinic value most, to help people that are in need. We never joined any organisation, rather we just contacted some people there privately and filled our suitcases with all instruments and anaesthetics that we could and headed off for a big adventure.
During our stay we treated 600 children in six intensive days. We helped them with new toothbrushes and toothpaste since they are hard to get in El Cuyo. El Cuyo is situated 28 hours' boatride from the mainland and the people there can't afford to get to a bigger city for medical and dental treatment. So they rely on these kind of help missions and sometimes have to wait in pain up to a year until someone comes and help them.
Our aim in Riviera Dental Clinic is to use one month of the year to go around in different parts of the world that are in need, to contribute with our help. We are now working on building an organisation with an internet webpage, so other dentists or sponsors can connect to us and help us with our future dental missions.
What is maybe most interesting for our patients is that a part of the money they spend on their teeth at Riviera Dental Clinic is used for these dental missions.
So when you have your treatment at Riviera Dental Clinic you know that you are also helping to make a difference.
Tel: 951 773 710, www.rivieradental.es, Avda de Golf, Centro Comercial 'La Plaza', Riviera del Sol, Complejo Saladito II, (behind OpenCore).