ANDALUSIAN VILLA WITH TROPICAL GARDEN
ANDALUSIAN VILLA WITH TROPICAL GARDEN
»
ANDALUSIAN STYLE VILLA WITH TROPICAL GARDEN
Andalusian Villa in Benhavís
Andalusian Villa - This beautiful andalusian villa welcomes its inhabitants with its open, inviting ambience.
The entrance hall leads to the spacious, light-filled living area with elegant fireplace and large panoramic sliding doors, which lead to a large terrace and further to the pool and the lush garden with palm trees and exotic plants. The terrace extends across the whole southern side of the house and is partly covered with a pergola and offers a magnificent view towards the large swimming pool, the garden and the Mediterranean Sea. Beside the pool is a small service building with an outdoor kitchen and barbecue area.
Left hand off the living area is a separate dining area for special occasions as well as the access to the two ground floor bedrooms with en-suite bathrooms. Right hand off the living area is another lounge area with a bar and another fireplace. In all rooms the wide sliding doors provide a natural brightness all day and enable direct access to the terrace. Also on this level there is a fully equipped spacious kitchen with separate access as well as laundry and storage room.
From the hall a staircase leads to the upper floor gallery with a reading area and the two master bedrooms each with private dressing room, spacious en-suite bathroom and a private terrace.
In the basement there are other rooms that can be used in different ways as well as a separate apartment with living sleeping area, kitchen and private bathroom.
Indoor Features: Fitted wardrobes; Fireplace; Air condition hot/cold
Outdoor Features: Private pool; BBQ area; Gazebo
Building Features: Underground parking
Views & Orientation: Sea views; Garden views; Orientation: South-West
For Sale: Andalusian Villa (Current)
Urbanization: El Paraíso Alto
Base Property Details
Building Information
Floor area (Inside): 590 m ²
Floor Area (Outside): 96 m ²
Floor Area (Total): 686 m ²
Land Information
Taxes & Fees
Annual property tax (IBI): 1.004,77 €
Annual garbage fee (Basura): 18,03 €
Monthly community fee: 153,53 €

Your online business directory for Andalusia
Find your craftman, car mechanic, carpenter, golf course, hairdresser, Event, webcam, a Restaurant, Real Estate as well as Information and much more about the Costa del Sol, region Málaga specially the cities Marbella, Mijas Costa and Fuengirola.
Mission to the Philippines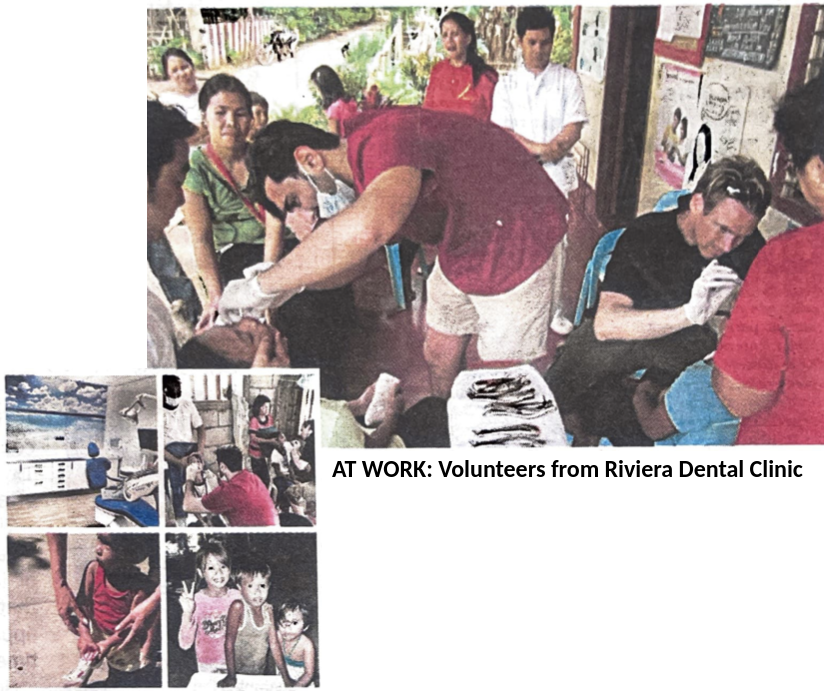 The idea of going on a dental volunteer trip has always been there and has always been one of the aspects of our profession that we at Riviera Dental Clinic value most, to help people that are in need. We never joined any organisation, rather we just contacted some people there privately and filled our suitcases with all instruments and anaesthetics that we could and headed off for a big adventure.
During our stay we treated 600 children in six intensive days. We helped them with new toothbrushes and toothpaste since they are hard to get in El Cuyo. El Cuyo is situated 28 hours' boatride from the mainland and the people there can't afford to get to a bigger city for medical and dental treatment. So they rely on these kind of help missions and sometimes have to wait in pain up to a year until someone comes and help them.
Our aim in Riviera Dental Clinic is to use one month of the year to go around in different parts of the world that are in need, to contribute with our help. We are now working on building an organisation with an internet webpage, so other dentists or sponsors can connect to us and help us with our future dental missions.
What is maybe most interesting for our patients is that a part of the money they spend on their teeth at Riviera Dental Clinic is used for these dental missions.
So when you have your treatment at Riviera Dental Clinic you know that you are also helping to make a difference.
Tel: 951 773 710, www.rivieradental.es, Avda de Golf, Centro Comercial 'La Plaza', Riviera del Sol, Complejo Saladito II, (behind OpenCore).