Urologist in Marbella – Dr. Kleimeier
Urologist in Marbella – Dr. Kleimeier
»

Dr. Wolfgang Kleimeier
Urologist Marbella - since 1997 urology surgery in Marbella
Urologist Marbella - Dr. Wofgang Kleimeier takes plenty of time in his urological clinic Marbella to discuss your problems in a relaxed atmosphere. He endeavour to explain your urological symptoms/disease and how these relate to the function of the body as a whole.
Medical terms will be explained so that they can be easily understood.
In his urological practice in Marbella, the doctor offers you the following services:
Urological Conditions
- Urinary tract infections
- Kidney and bladder stones
- Urinary flow investigation
- Impotence
- Hematuria
- Pediatric Urology (bed-wetting)
Well-man Clinic
- Prostate check-ups
- complete laboratory investigations (including PSA, PCA3)
- 4K Score test
- ultrasound incl. transrectal and Doppler investigations
STD-Clinic
- Complete screening for sexually transmitted diseases
Out-patient Treatment
- Vasectomy
- Circumcision (children and adults)
- Hydrocele
- Cystoscopy/Urethroscopy
- Non-surgical incontinence treatment
- Prostate biopsy
- For more invasive procedures cooperation with renowned clinics worldwide
Fertility Tests
- Investigation for varicocele
- Hormone profile
- Testicular Ultrasound
- Semen Analysis
Oncology
- Complete follow-up for diagnosed/treated cancer patients
- Intravenous treatments
Laboratory
- Rapid diagnostic test on clinic premises (results in 15 minutes)
● Bladder Cancer
● HIV
● Chlamydia
● Gonorrhea
● Hidden blood in stool
Alternative Therapies
- High-dosed vitamine C (intravenously)
- Orthomolecular medicine
- Psychotherapy / coaching
- Viscum Album (non-specific tumor treatment)
To avoid the side effects of general anesthesia, operations will be performed under local anesthetic whenever possible.
In cases of malignant disease he works closely with other hospitals and specialists in Spain and should your condition require further investigations or procedures then he will help you however he can. He can even try to find a suitable hospital/institution in a country of your choice. You will not be left to struggle alone.
Further information is available from the urologist Marbella on his website
Marbella, Spanien

, Avenida Ricardo Soriano, 36,

Spain Marbella

,

29601
Your online business directory for Andalusia
Find your craftman, car mechanic, carpenter, golf course, hairdresser, Event, webcam, a Restaurant, Real Estate as well as Information and much more about the Costa del Sol, region Málaga specially the cities Marbella, Mijas Costa and Fuengirola.
Mission to the Philippines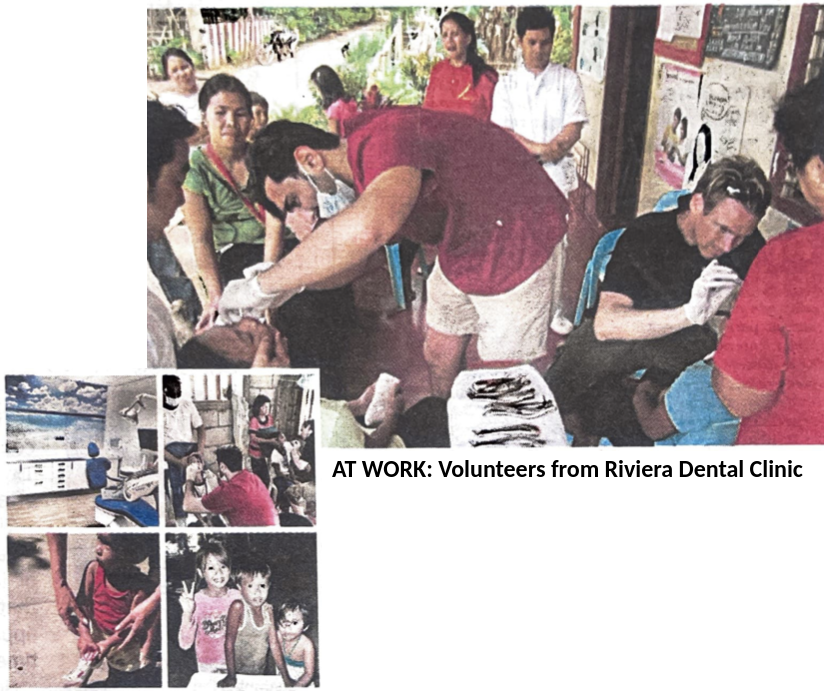 The idea of going on a dental volunteer trip has always been there and has always been one of the aspects of our profession that we at Riviera Dental Clinic value most, to help people that are in need. We never joined any organisation, rather we just contacted some people there privately and filled our suitcases with all instruments and anaesthetics that we could and headed off for a big adventure.
During our stay we treated 600 children in six intensive days. We helped them with new toothbrushes and toothpaste since they are hard to get in El Cuyo. El Cuyo is situated 28 hours' boatride from the mainland and the people there can't afford to get to a bigger city for medical and dental treatment. So they rely on these kind of help missions and sometimes have to wait in pain up to a year until someone comes and help them.
Our aim in Riviera Dental Clinic is to use one month of the year to go around in different parts of the world that are in need, to contribute with our help. We are now working on building an organisation with an internet webpage, so other dentists or sponsors can connect to us and help us with our future dental missions.
What is maybe most interesting for our patients is that a part of the money they spend on their teeth at Riviera Dental Clinic is used for these dental missions.
So when you have your treatment at Riviera Dental Clinic you know that you are also helping to make a difference.
Tel: 951 773 710, www.rivieradental.es, Avda de Golf, Centro Comercial 'La Plaza', Riviera del Sol, Complejo Saladito II, (behind OpenCore).