La Langosta Restaurant Fuengirola
La Langosta Restaurant Fuengirola
»
LA LANGOSTA RESTAURANT in LOS BOLICHES / FUENGIROLA
Lobster, Mussels, Scallops and Co. – A must since 1960
La Langosta is a popular high quality restaurant specialising in sea food and steak dishes. This fabulous and artistically decorated Los Boliches restaurant, located close to the Los Boliches sea promenade, is a preferred meeting point for local as well as international gourmets and was founded on April 23 in 1965 by the German gastronomer Helmut Albietz. It is considered one of the longest established  restaurants of the Fuengirola gastronomic business.
This elegant establishment with its interesting interior decoration consisting of Tiffany style windows and glass paintings offers its clients an agreeable and relaxed atmosphere. La Langosta was founded 44 years ago and can proudly look back on a history of success. Among its many clients, one can find out browsing through the La Langosta guestbook, are internationally well known celebrities such as the British actor and legend Orson Wells, Pablo Picasso's cousin Manuel Blasco and last but not least the very famous Spanish torero Antonio Ordoñez.
La Langosta's international cuisine's specialities are elaborate steak and sea food dishes. For curious gourmets we especially recommend the La Langosta Chef's Menu including among other possible choices Salmon Paupiettes and Caviar, Mango Sorbet, Chauteaubriand with Cepes Sauce and various dessert choices.
The restaurant also disposes of a separate room with a piano bar which accommodates 30 persons and is often used for business dinners and private celebrations. The friendly service staff attends its international clientele in English, Spanish, French, German and Dutch.
Menu / Menú / Menü
Visit oue website: La Lagosta Restaurant Fuengirola
We are Looking forward to your Visit in La Langosta Restaurant Fuengirola
Calle Francisco Cano, 1,

Spain Fuengirola

,

29640
Your online business directory for Andalusia
Find your craftman, car mechanic, carpenter, golf course, hairdresser, Event, webcam, a Restaurant, Real Estate as well as Information and much more about the Costa del Sol, region Málaga specially the cities Marbella, Mijas Costa and Fuengirola.
Mission to the Philippines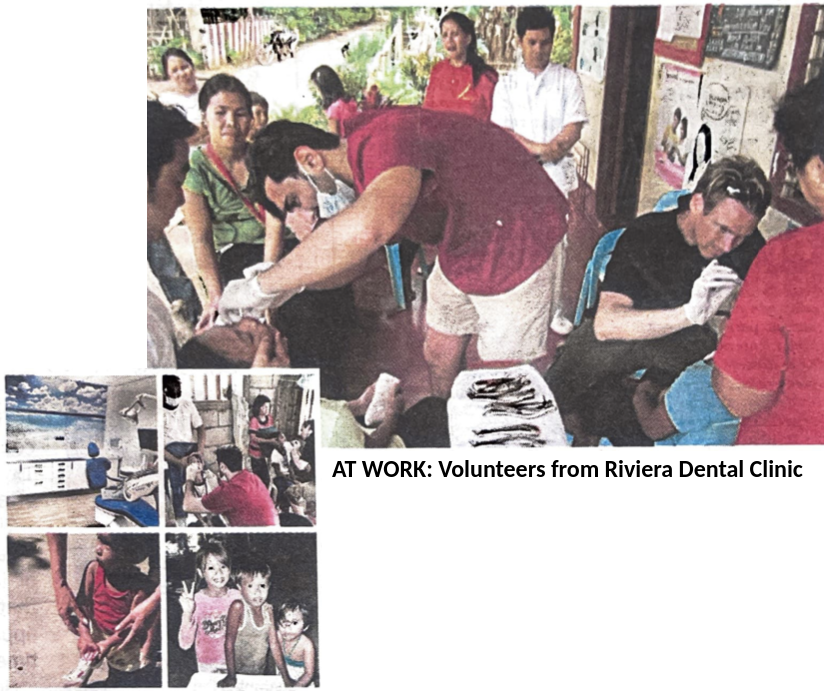 The idea of going on a dental volunteer trip has always been there and has always been one of the aspects of our profession that we at Riviera Dental Clinic value most, to help people that are in need. We never joined any organisation, rather we just contacted some people there privately and filled our suitcases with all instruments and anaesthetics that we could and headed off for a big adventure.
During our stay we treated 600 children in six intensive days. We helped them with new toothbrushes and toothpaste since they are hard to get in El Cuyo. El Cuyo is situated 28 hours' boatride from the mainland and the people there can't afford to get to a bigger city for medical and dental treatment. So they rely on these kind of help missions and sometimes have to wait in pain up to a year until someone comes and help them.
Our aim in Riviera Dental Clinic is to use one month of the year to go around in different parts of the world that are in need, to contribute with our help. We are now working on building an organisation with an internet webpage, so other dentists or sponsors can connect to us and help us with our future dental missions.
What is maybe most interesting for our patients is that a part of the money they spend on their teeth at Riviera Dental Clinic is used for these dental missions.
So when you have your treatment at Riviera Dental Clinic you know that you are also helping to make a difference.
Tel: 951 773 710, www.rivieradental.es, Avda de Golf, Centro Comercial 'La Plaza', Riviera del Sol, Complejo Saladito II, (behind OpenCore).