The Hut Cocktails Bar
The Hut Cocktails Bar
»
Welcome to the Hut Cocktails Bar in Mijas
Come in and feel Home in the Hut
Cocktails Bar "The Hut" in Mijas - Many of you will know and have passed The Hut on the El Chapparal golf slip road but you will not recognize it as it used to be!
In May 2014 it has been taken over by Craig & Nicola who have fully refurbished, with bright decor & comfortable furnishings & they have quickly put this Pub firmly on the map for the fantastic friendly atmosphere with regular fun entertainment afternoons and ´Pub Grub´menu which is just that little bit different. The snack baskets are a brilliant addition to the menu and great for when you´re feeling peckish with an added trip down memory lane
With the renowned ´´grumpy landlord´´ with his excellent sense of humor & his wife Nicola with her fun personality you are always sure of a warm welcome.
The Sunday Fundays have turned into the place to be on a Sunday afternoon with entertainment running from 4pm and if atmosphere was a lager it would be the friendliest Cocktails atmosphere in the world!
They are open from 12am to 11pm every day with easy parking....don´t miss the sliproad just on the bend after Playa Marina/El Faro.
Call in to say hello and have a look when you´re next passing & don´t forget to follow us on FaceBook to keep up to date with the latest happenings at The Hut.
Like us on Facebook
Ur. El Chaparral,

Spain Mijas

,

29649
Your online business directory for Andalusia
Find your craftman, car mechanic, carpenter, golf course, hairdresser, Event, webcam, a Restaurant, Real Estate as well as Information and much more about the Costa del Sol, region Málaga specially the cities Marbella, Mijas Costa and Fuengirola.
Mission to the Philippines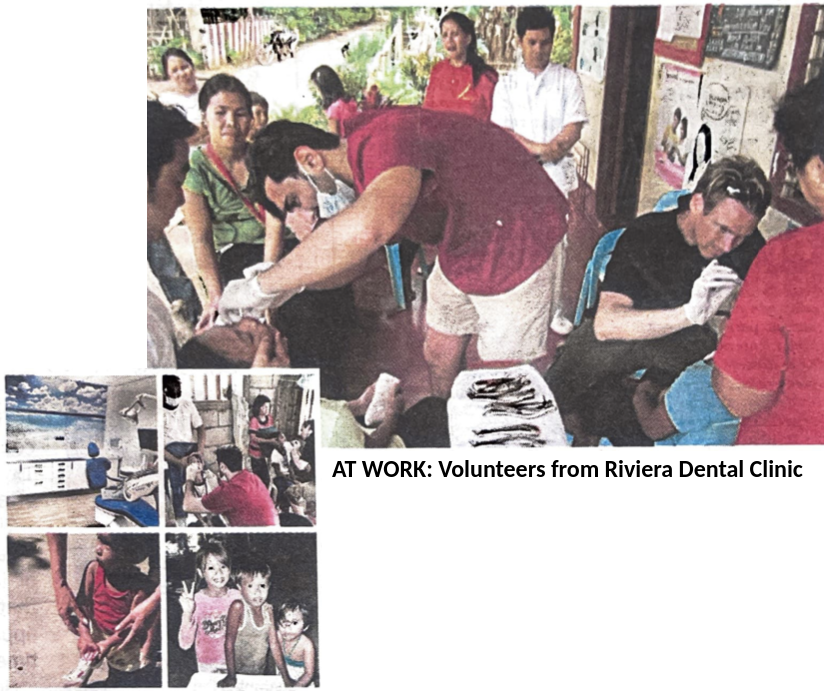 The idea of going on a dental volunteer trip has always been there and has always been one of the aspects of our profession that we at Riviera Dental Clinic value most, to help people that are in need. We never joined any organisation, rather we just contacted some people there privately and filled our suitcases with all instruments and anaesthetics that we could and headed off for a big adventure.
During our stay we treated 600 children in six intensive days. We helped them with new toothbrushes and toothpaste since they are hard to get in El Cuyo. El Cuyo is situated 28 hours' boatride from the mainland and the people there can't afford to get to a bigger city for medical and dental treatment. So they rely on these kind of help missions and sometimes have to wait in pain up to a year until someone comes and help them.
Our aim in Riviera Dental Clinic is to use one month of the year to go around in different parts of the world that are in need, to contribute with our help. We are now working on building an organisation with an internet webpage, so other dentists or sponsors can connect to us and help us with our future dental missions.
What is maybe most interesting for our patients is that a part of the money they spend on their teeth at Riviera Dental Clinic is used for these dental missions.
So when you have your treatment at Riviera Dental Clinic you know that you are also helping to make a difference.
Tel: 951 773 710, www.rivieradental.es, Avda de Golf, Centro Comercial 'La Plaza', Riviera del Sol, Complejo Saladito II, (behind OpenCore).