Horse Riding – Riding Holidays at Rancho la Paz
Horse Riding – Riding Holidays at Rancho la Paz
»
Rancho la Paz - relax, recharge and reconnect!
Rancho la Paz – a little white town in the mountains of Mijas and the home of more than 100 Andalusia horses
Horse riding Mijas - In the south of Andalusia, between Malaga and Marbella, in the mountains of Mijas with views over Fuengirola and the Costa del Sol you find La Paz.
An independent little white town has grown up here during the years: 27 rustic typical
Andalusian apartments are distributed all over the ranch, a swimming pool invites to refresh in summer, an Andalusian patio surrounded with bougainvillea invites to common meals and a chimney salon to canny evenings in winter – all framed with the spacious corals.
For more than 30 years we are breeding and training Spanish horses here. But we also offer horseback holidays for all levels – from beginner programs, over outside rides, daily trails and even long weekly trails all over Andalusia.
For all of you who stay at the Costa del Sol and like to enjoy a few hours of Daily outdoor rides for experienced riders and beginners.
Vacations = sun, beach, fun and unforgettable excursions -come to know Andalusia back country from the perspective from a saddle!
Beside our weekly programs we also offer daily outdoor rides in the mornings and in the afternoons for everybody who is on vacation at the Costa del Sol.
Riders with good experience on outdoor rides enjoy on two hours rides over paths the safety of the Spanish horses. You ride in walk and canter, cross mountains and valleys following the footprints of goats and cows.
For all these who still have no experience we have our very safe trail horses waiting to show you the surrounds of the ranch on easy ways at quiet walk. Enjoy the country in the shadow of pine and eucalyptus trees with unforgettable views over the Costa del Sol and even to the coasts of Africa.
The rides are daily in the mornings and afternoons.
In general:
You have to have a good physical form to make this kind of sport and should bring long trousers and closed shoes / boots for riding. We have riding helmets here on your s disposal.
The maximum weight of riders is 95 kilos.
You ride with Spanish horses (geldings and mares) with typical Spanish "Vaquero" saddles and hackamore (without bridle). (More information under "Riding at La Paz")
All rides are guided (English, German and Spanish speaking)
You ride on your own risk and should follow the orders / tips of the guides. We just canter with experienced riders who are used to canter in groups on outside rides.
Arrival: Rancho la Paz is situated in the outsides between Fuengirola and Mijas. You can come by own car or taxi (no bus or train). A description of the way can be found here on our website or we can send it by mail. (Most of the navigations do not find it)
You also can send us a whatsapp on (0034) 615 407525 and we send you the ubrication on your phone.
The dates for your navigation are:
36.592360
-4.620749
Prices:
Rides of two hours = Euro 40,- / person you can pay directly here cash
For groups and children we can make special arrangements.
PDF Information - Rancho la Paz:
Reservation:
Please make your reservation one or two days in advance so we can organize the groups and rides:
We are looking forward to your visit!  
Rancho la Paz in Mijas website
Find us on Facebook:
Rancho La Paz, Fuengirola, Spanien

, Torreblanca s/n,

Spain Fuengirola

,

29640
Your online business directory for Andalusia
Find your craftman, car mechanic, carpenter, golf course, hairdresser, Event, webcam, a Restaurant, Real Estate as well as Information and much more about the Costa del Sol, region Málaga specially the cities Marbella, Mijas Costa and Fuengirola.
Mission to the Philippines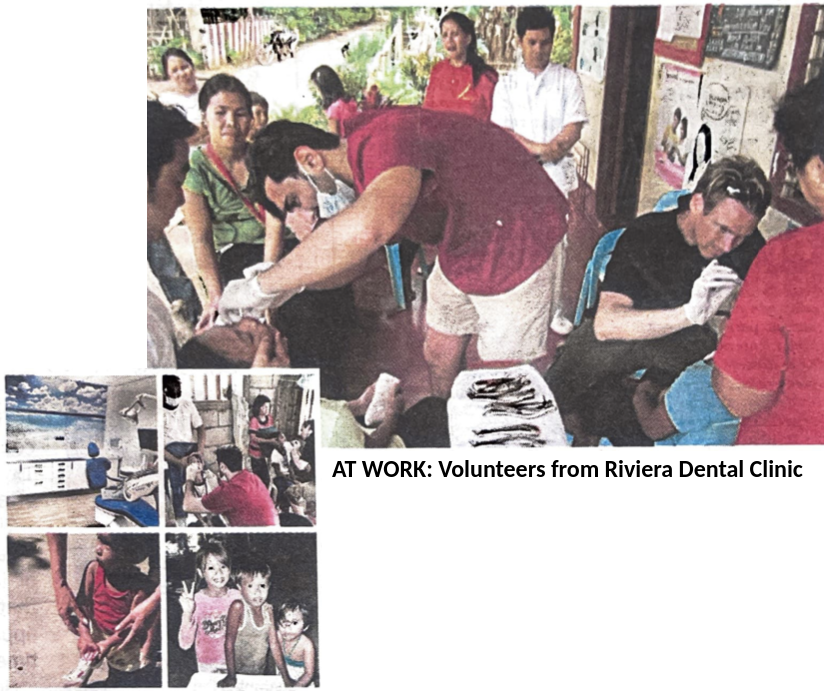 The idea of going on a dental volunteer trip has always been there and has always been one of the aspects of our profession that we at Riviera Dental Clinic value most, to help people that are in need. We never joined any organisation, rather we just contacted some people there privately and filled our suitcases with all instruments and anaesthetics that we could and headed off for a big adventure.
During our stay we treated 600 children in six intensive days. We helped them with new toothbrushes and toothpaste since they are hard to get in El Cuyo. El Cuyo is situated 28 hours' boatride from the mainland and the people there can't afford to get to a bigger city for medical and dental treatment. So they rely on these kind of help missions and sometimes have to wait in pain up to a year until someone comes and help them.
Our aim in Riviera Dental Clinic is to use one month of the year to go around in different parts of the world that are in need, to contribute with our help. We are now working on building an organisation with an internet webpage, so other dentists or sponsors can connect to us and help us with our future dental missions.
What is maybe most interesting for our patients is that a part of the money they spend on their teeth at Riviera Dental Clinic is used for these dental missions.
So when you have your treatment at Riviera Dental Clinic you know that you are also helping to make a difference.
Tel: 951 773 710, www.rivieradental.es, Avda de Golf, Centro Comercial 'La Plaza', Riviera del Sol, Complejo Saladito II, (behind OpenCore).