Translation and interpreting services in Marbella
Translation and interpreting services in Marbella
»
Translation and interpreting services in English, Spanish and German by state-certified translator near Marbella.
Translation and interpreting - Invest in your future! With a professional translation of your web page or marketing material, you will expand your business opportunities and increase the popularity of your company.
I am specialized on TRANSLATIONS in the areas of tourism, economy, as well as sworn translations, and I work for numerous tourism companies, law firms, service providers and private individuals in Spain and Germany.
My product portfolio includes:
Tourism translation:
Web pages of tourist boards and hotels
Marketing material for tourism companies
Travel descriptions, blogs
Manuals, menus of restaurants
Annual reports
Commercial translation:
Contracts
Commercial register extracts
Annual reports, correspondence
Manuals, operation instructions
Sworn translations:
Contracts and powers of attorney
Certificates
Notarial instruments
Documentation concerning inheritance
In case you need an INTERPRETER for business negotiations, trials, notary appointments or for a meeting of your community of owners, I am at your disposal. After residing on the Costa del Sol since the year 2000, I have become familiar with regional circumstances and conditions. You also can count on me for appointments with administrative authorities.
ENJOY LANGUAGE TRAINING IN SPANISH OR GERMAN IN MARBELLA!
Are you interested in learning another language? Would you like to feel even more "at home" in your adopted country, Spain, being able to hold confident and fluent conversations with your Spanish and German friends? Do you aspire to communicate in a business environment in the fields of tourism, hospitality or others?
As a sworn translator for German, English and Spanish, I offer language training in Marbella orientated to the needs of my clients:
Conversation
Spanish language practice in everyday situations (banks, shops, restaurants, getting around)
Improving pronunciation skills
Correct application of grammar and spelling rules
Listening comprehension
Translation of newspaper reports, etc.
I am looking forward to receiving your enquiry!
Link to my interpreter / translator WEBSITE
C./ Rafael Alberti, 25,

Spain Marbella

,

29610
Your online business directory for Andalusia
Find your craftman, car mechanic, carpenter, golf course, hairdresser, Event, webcam, a Restaurant, Real Estate as well as Information and much more about the Costa del Sol, region Málaga specially the cities Marbella, Mijas Costa and Fuengirola.
Mission to the Philippines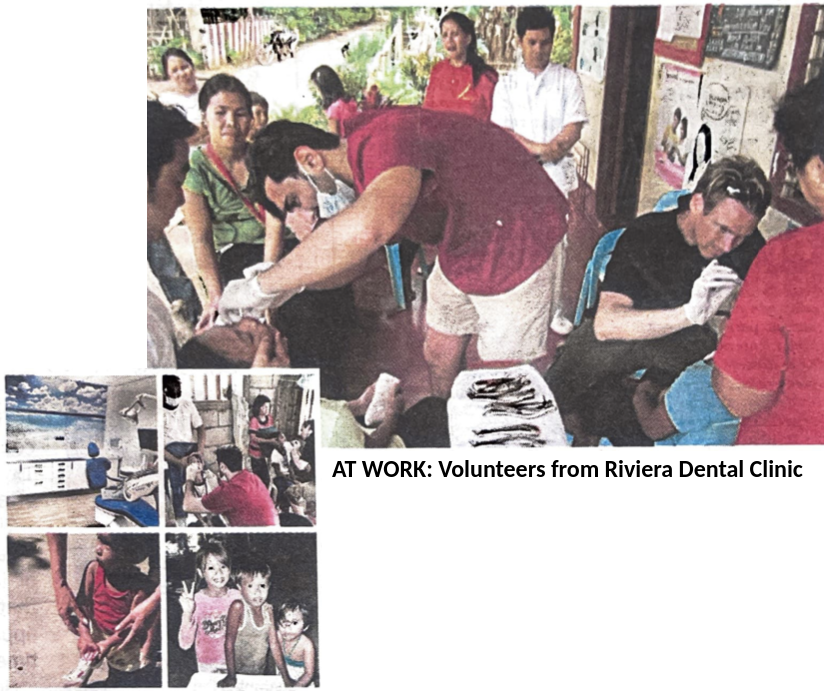 The idea of going on a dental volunteer trip has always been there and has always been one of the aspects of our profession that we at Riviera Dental Clinic value most, to help people that are in need. We never joined any organisation, rather we just contacted some people there privately and filled our suitcases with all instruments and anaesthetics that we could and headed off for a big adventure.
During our stay we treated 600 children in six intensive days. We helped them with new toothbrushes and toothpaste since they are hard to get in El Cuyo. El Cuyo is situated 28 hours' boatride from the mainland and the people there can't afford to get to a bigger city for medical and dental treatment. So they rely on these kind of help missions and sometimes have to wait in pain up to a year until someone comes and help them.
Our aim in Riviera Dental Clinic is to use one month of the year to go around in different parts of the world that are in need, to contribute with our help. We are now working on building an organisation with an internet webpage, so other dentists or sponsors can connect to us and help us with our future dental missions.
What is maybe most interesting for our patients is that a part of the money they spend on their teeth at Riviera Dental Clinic is used for these dental missions.
So when you have your treatment at Riviera Dental Clinic you know that you are also helping to make a difference.
Tel: 951 773 710, www.rivieradental.es, Avda de Golf, Centro Comercial 'La Plaza', Riviera del Sol, Complejo Saladito II, (behind OpenCore).