Andagolf – Your Clubmaker at the Costa del Sol
Andagolf – Your Clubmaker at the Costa del Sol
»
Andagolf - Your No. 1 Golf Shop
MADE TO MEASURE GOLF
Andagolf Costa del Sol offers you a wide range of Golf equipment.
Our speciality is tailored golf trousers for both women and men, which are comfortable to wear on the golf course, and unique in their chosen textile and colour. From laid back style to high profile colourful designs, there are no rules!
AndaGolf Costa del Sol is committed to being your best provider of golf equipment and apparel in Málaga – Spain.
We supply everything from tailored golf trousers and skirts to individually crafted golf clubs ( Clubmaker ), as well as high quality golf wear with personalized embroidery. Create your own fashion style with help from Anda Golf.
Tailored Trousers
Uniquely on the Costa del Sol, Anda Golf supplies tailored trousers for men and women, as well as golf skirts for women, all hand crafted in our workshop.
Grips
Let us help you find the grip that suits your game.
Club measure
Because all golfers are built differently and swing differently, a club that works for one player may not work for another.
Golf Clubs
We offer a wide range of new and second hand golf clubs in our shop.
Green fee discount
We provide a discounted green fee service to all our clients. Book your tee time in our shop and save time and money
Shop
Alongside our workshops, we have a shop offering a wide selection of shoes, polo shirts, clubs, gloves, balls, trolleys and all other major clothing for a perfect round of golf.
Visit our web page: ANDAGOLF
Looking forward to seeing you soon in our shop
Ctra. N340 Km200, Urb. Jardin Botanico, Local 11,

Spain Mijas

,

29649
Your online business directory for Andalusia
Find your craftman, car mechanic, carpenter, golf course, hairdresser, Event, webcam, a Restaurant, Real Estate as well as Information and much more about the Costa del Sol, region Málaga specially the cities Marbella, Mijas Costa and Fuengirola.
Mission to the Philippines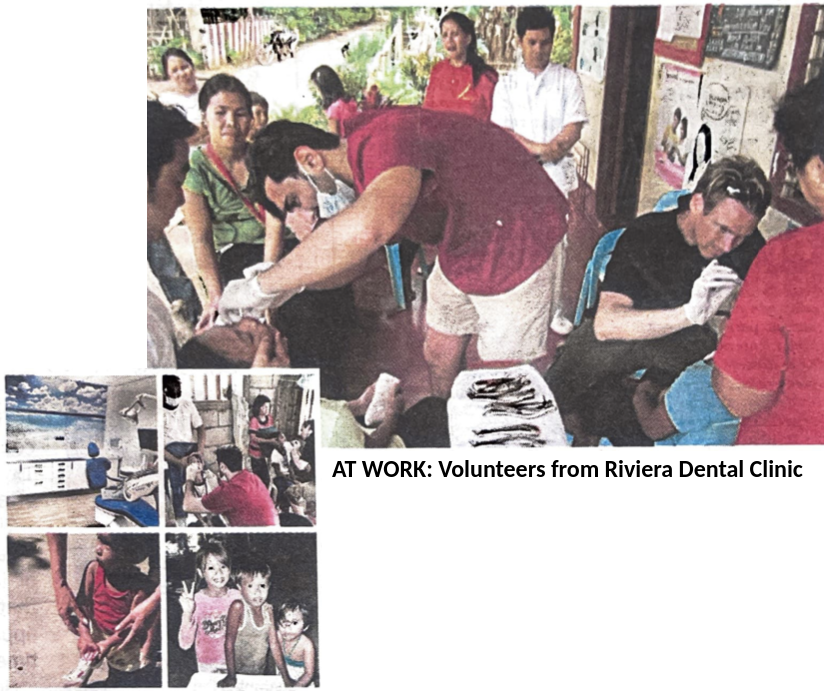 The idea of going on a dental volunteer trip has always been there and has always been one of the aspects of our profession that we at Riviera Dental Clinic value most, to help people that are in need. We never joined any organisation, rather we just contacted some people there privately and filled our suitcases with all instruments and anaesthetics that we could and headed off for a big adventure.
During our stay we treated 600 children in six intensive days. We helped them with new toothbrushes and toothpaste since they are hard to get in El Cuyo. El Cuyo is situated 28 hours' boatride from the mainland and the people there can't afford to get to a bigger city for medical and dental treatment. So they rely on these kind of help missions and sometimes have to wait in pain up to a year until someone comes and help them.
Our aim in Riviera Dental Clinic is to use one month of the year to go around in different parts of the world that are in need, to contribute with our help. We are now working on building an organisation with an internet webpage, so other dentists or sponsors can connect to us and help us with our future dental missions.
What is maybe most interesting for our patients is that a part of the money they spend on their teeth at Riviera Dental Clinic is used for these dental missions.
So when you have your treatment at Riviera Dental Clinic you know that you are also helping to make a difference.
Tel: 951 773 710, www.rivieradental.es, Avda de Golf, Centro Comercial 'La Plaza', Riviera del Sol, Complejo Saladito II, (behind OpenCore).