AIM British Building Supplies – Marbella
AIM British Building Supplies – Marbella
»
AIM British Building Supplies - Marbella
Spain's leading suppliers of British building materials and tools
Aim British Building Supplies,  for over 8 years (now also in Javea, Alicante), is proud to be the official distributor for Crown Trade Paints (including Sandtex Trade and Retail) in Spain.
Visit our warehouse at Elviria behind the Repsol petrol station at km193 on the N340 mountain side. Las Chapas Poligono Industrial N26, Elviria, 29604 Marbella.
Welcome to 
AIM British Building Supplies
Crown/Sandtex Paints - We can mix over a thousand colours while you wait, with a full range of interior and exterior paints. In addition we have the complete Crown woodcare range. We stock a range of fillers, stabilisers, filling knifes, scrapers, brushes, rollers, white spirits, sandpaper and all decorating products. If there is a product that we do not have we can normally get it within 2 weeks. We serve the Trade and DIY markets, our staff have experience in all aspects of building and decorating so you can have confidence in any advice we give.
Decoration
Here in Spain we have a number of issues with decorating both the interior and the exterior of our homes, offices and public buildings
Please click on the links below to get further information !
Timber & Treatments
AIM British Building Supplies stocks the best range of timber decking;- tanalised in two sizes, thermowood and bamboo. The ecologically sound options which have a net reduction in greenhouse gas in the production are Thermowood and Bamboo
Also we offer the best range of treatments for your timber, whatever the application we have a product to suit your budget
Tools
If you require a tool for your Carpentry, building or plastering we will have a choice of DIY and professional items, from a pencil to a set of levels, from a wire brush to a saw.
AIM British Building Supplies stocks Draper, Builders Brand, Stanley, Ragni, Faithfull and Marshall town and various other brands.
All the plasterers tools, scarifiers, drywall saws, knifes, hawks, trowels and floats in stock at
excellent prices!
Everbuild
Everbuild have the biggest range of building products on the market and they are available in all our outlets.
Sealants, expanding foams, grab adhesive, contact adhesive, wood adhesive, tile adhesive (powder and ready mixed), grout, levelling compound, PVA and SBR bonding agents, surface treatments (for patios, paths and walls), technical mortars, cleaning products, fillers (powder and ready mixed), dust sheets, tarpaulins, tapes, bitumen products and wood treatments.
Plastering & Components
AIM British Building Supplies stocks British Gypsum plaster (Thistle Multifinish and Bonding Coat), boards (12.5mm standard and moisture resistant), coving and corniche. Also scrim, jointing compound and a range of trowels.
All your joist hangers, metal bar, angle brackets and general components are in stock or can be ordered.
And our other services
We can arrange local delivery using our own vehicles, from any of our branches at competitive rates and at times to suit you (the delivery is by appointment, we will deliver as soon as possible under given staff and vehicle restraints).
AIM British Building Supplies has a small JCB digger plus a dumper truck to hire by the day or week. Local delivery can be arranged.
We make pergolas to your specification, these can be included in a decked area or stand alone, leanto, pitched roof, thatched or finished with cedar shingles. In fact whatever design you require we can help you to achieve!
Do you need a playhouse or a shed made to your specifications? We make all types of wooden structures using treated timbers which will last for years. We offer a range of finishes, colours and styles. If you want a thatched roof, no problem. We also have mineral felt rolls and cedar shingles.
Our experience ranges from simple sheds, summer houses, tree houses and even multi-storey play houses!
We invite you heartly to visit us
Our warehouse at Elviria behind the Repsol petrol station at km192 on the N340 mountain side. Las Chapas Poligono Industrial N26, Elviria, 29604 Marbella.Beware we have recently moved to new premises inside the poligono. if you are a returning customer
Looking forward to see you soon, please speak to our friendly and knowledgable staff about all your decorating requirements
Your AIM British Building Supplies Team
Visit our Website
Poligono Industrial N340 Km193, Nave 25-26,

Spain Marbella

,

29604
Your online business directory for Andalusia
Find your craftman, car mechanic, carpenter, golf course, hairdresser, Event, webcam, a Restaurant, Real Estate as well as Information and much more about the Costa del Sol, region Málaga specially the cities Marbella, Mijas Costa and Fuengirola.
Mission to the Philippines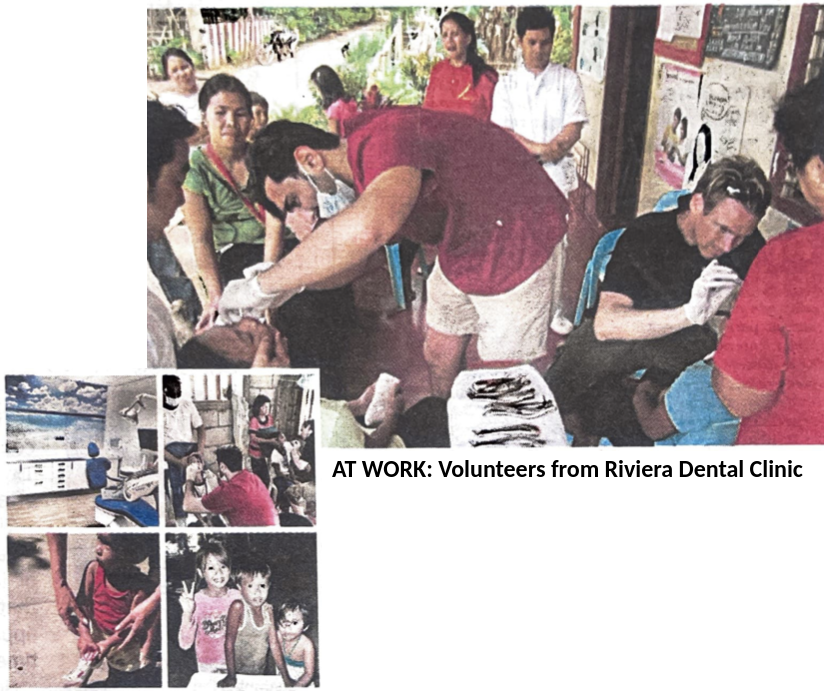 The idea of going on a dental volunteer trip has always been there and has always been one of the aspects of our profession that we at Riviera Dental Clinic value most, to help people that are in need. We never joined any organisation, rather we just contacted some people there privately and filled our suitcases with all instruments and anaesthetics that we could and headed off for a big adventure.
During our stay we treated 600 children in six intensive days. We helped them with new toothbrushes and toothpaste since they are hard to get in El Cuyo. El Cuyo is situated 28 hours' boatride from the mainland and the people there can't afford to get to a bigger city for medical and dental treatment. So they rely on these kind of help missions and sometimes have to wait in pain up to a year until someone comes and help them.
Our aim in Riviera Dental Clinic is to use one month of the year to go around in different parts of the world that are in need, to contribute with our help. We are now working on building an organisation with an internet webpage, so other dentists or sponsors can connect to us and help us with our future dental missions.
What is maybe most interesting for our patients is that a part of the money they spend on their teeth at Riviera Dental Clinic is used for these dental missions.
So when you have your treatment at Riviera Dental Clinic you know that you are also helping to make a difference.
Tel: 951 773 710, www.rivieradental.es, Avda de Golf, Centro Comercial 'La Plaza', Riviera del Sol, Complejo Saladito II, (behind OpenCore).