Da Sergio Restaurant Miguel y Maria in Costabella
Da Sergio Restaurant Miguel y Maria in Costabella
»
Tasty food and beach atmosphere:
Restaurant Miguel y Maria da Sergio
Da Sergio Restaurant Miguel y Maria - Due to the mild climate and the beautiful beaches the sunny Marbella on the Costa del Sol is a very popular holiday destination. Nearly everywhere along the coast you can find restaurants and beach bars which offer everything to the vacationists that makes their holiday perfectly. On the idyllic beach of Costabella it´s not only possible to relax and to enjoy the sun, but you can also find our cozy mediterranean restaurant Miguel y Maria da Sergio there, which spoils its guests with excellent Spanish-Italian cuisine.
King prawns, steaks and pasta dishes
In our beach restaurant guests can mostly find Spanish and Italian delictables on the menu. The starters are really variegated and you can for example choose king prawns with garlic, chili and tomatosauce or white mushrooms with bacon and a herb-peppersauce. As a main course the guests have the possibility to choose from different pizzas or pastas, very recommendable are also the fish specialities like gilthead seabream or  sea brass in a salty crust or from the grill. But we also serve delicious steaks in a green pepper or white mushroom sauce or Scotch fillets with mushrooms. In order to complete your meal you should definitely try some tiramisu or some ice cream with hot cherries. Moreover, we also offer daily meals with starter, main course, a dessert or coffee for 9,50 Euros.
Extraordinary atmosphere
Also the atmosphere is quite impressive: At our da Sergio restaurant guests sit on the terrace and can fully enjoy their holiday feeling. Especially when the sun sets it´s really romantic here but also during the day our friendly service does everything possible to spoil our guests. A special highlight beside the tasty meals: Every Saturday and Sunday the guests are entertained by different bands starting at 5pm.
We are looking forward to your visit, your Restaurant Miguel y Maria "da Sergio" Team
Visit our Website
Avd. Andasol, Urb. Andasol, Playa Costabella,

Spain Marbella

,

29604
Your online business directory for Andalusia
Find your craftman, car mechanic, carpenter, golf course, hairdresser, Event, webcam, a Restaurant, Real Estate as well as Information and much more about the Costa del Sol, region Málaga specially the cities Marbella, Mijas Costa and Fuengirola.
Mission to the Philippines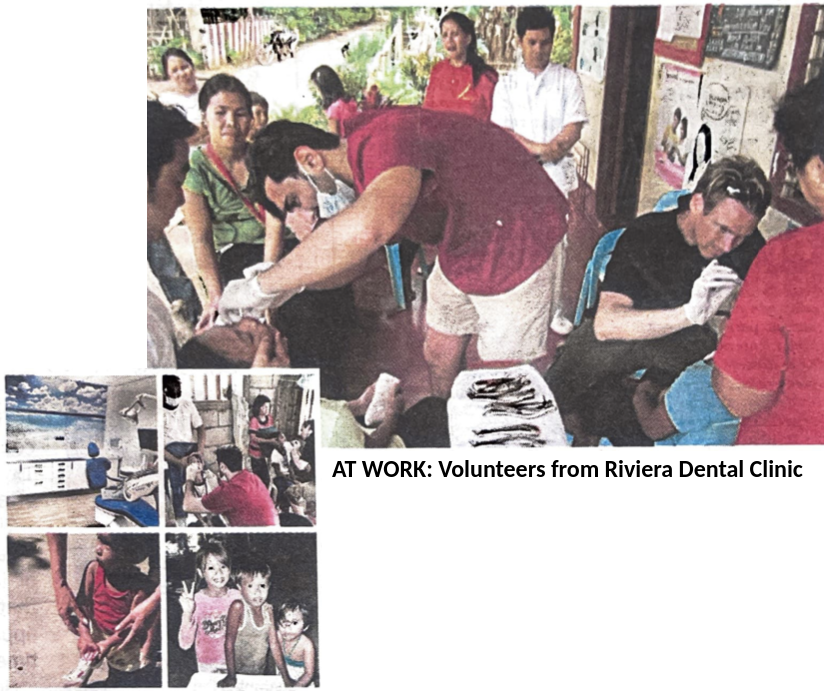 The idea of going on a dental volunteer trip has always been there and has always been one of the aspects of our profession that we at Riviera Dental Clinic value most, to help people that are in need. We never joined any organisation, rather we just contacted some people there privately and filled our suitcases with all instruments and anaesthetics that we could and headed off for a big adventure.
During our stay we treated 600 children in six intensive days. We helped them with new toothbrushes and toothpaste since they are hard to get in El Cuyo. El Cuyo is situated 28 hours' boatride from the mainland and the people there can't afford to get to a bigger city for medical and dental treatment. So they rely on these kind of help missions and sometimes have to wait in pain up to a year until someone comes and help them.
Our aim in Riviera Dental Clinic is to use one month of the year to go around in different parts of the world that are in need, to contribute with our help. We are now working on building an organisation with an internet webpage, so other dentists or sponsors can connect to us and help us with our future dental missions.
What is maybe most interesting for our patients is that a part of the money they spend on their teeth at Riviera Dental Clinic is used for these dental missions.
So when you have your treatment at Riviera Dental Clinic you know that you are also helping to make a difference.
Tel: 951 773 710, www.rivieradental.es, Avda de Golf, Centro Comercial 'La Plaza', Riviera del Sol, Complejo Saladito II, (behind OpenCore).